galapagos
CNH Tours - Cultural and Natural Heritage Tours Galapagos
Please choose from one of the following options:
Who are we?
We are a small and highly experienced tour operator, owned and operated by Canadians Heather Blenkiron and her husband Marc Patry.  When you contact CNH Tours, it's Heather who will take your call or email. Heather and Marc gained an intimate knowledge of the islands while working for the Galapagos National Park and the Darwin Research Station, from 1998 to 2002. Heather also served as the Canadian embassy representative for Galapagos during her stay. They maintain very close contacts with key people in the islands and on the mainland. When Heather can't give you the attention you deserve, she'll ask Marc (United Nations point man for Galapagos conservation from 2003-2014) to give her a hand (for more info on Marc, click here). Few if any travel companies know Galapagos as well as we do. 
8 reasons to book with us
1. Galapagos was our home - we know it like few others.
After having lived and worked in the islands for 4 years, we retain our hands on the pulse of Galapagos through our long-term connections with our friends and colleagues who remain in the islands.  Today, several of them are senior naturalist guides, or occupy senior positions in local and national governments, at the Park and at the Darwin Station.  We know many ship owners or their commercial representatives on a first name basis.  
2. We are not distracted by other destinations. 
We constantly seek to update and improve our knowledge on the latest developments in the islands so that it is put to use in ensuring your visit is the best it can be.  See our very own "news" section for the latest developments, and how these may relate to your visit.

 3. We are recognized experts in Galapagos tourism.
After having posted hundreds of helpful recommendations on TripAdvisor Galapagos forum, this very popular travel information website invited Heather to become its first Galapagos "Galapagos Destination Expert" in 2009.  Heather continues to provide advice there to people considering a Galapagos trip.
In 2012, CNH Tours made it on Mastercard World Elite Concierge's radar screen - recommending us to their clients as a highly reputable, quality and service oriented Galapagos expert.
4. Personalized service is our specialty.
Our unofficial company saying is: "We may not be big, but we're small."   We're very proud of the fact that when you contact CNH Tours, it's the owners you'll be hearing from.  An important part of our reward in this business is our own personal satisfaction in doing all we can to help you see and feel Galapagos like we did - and that motivates us to go the extra mile.
Why not get in touch with us right now by email?  hblenkiron@cnhtours.com  You may also want to consider asking us to schedule a phone call to help you start exploring cruise options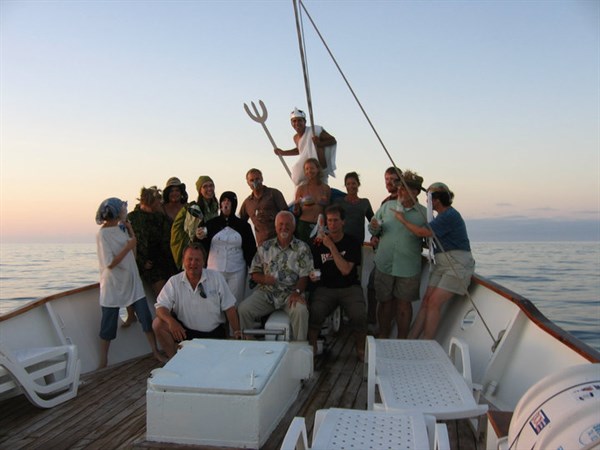 Picture:  Celebrations on the Samba to mark the crossing of the Equatorial line 
5. We give back to the community.  
Since 2000, CNH Tours has been organizing non-profit fund-raising cruises in support of worthy initiatives. Past cruises have raised funds for United World Colleges (3 cruises), underprivileged urban youth (2 cruises), and we helped raise funds for the Galapagos Public Library.  More recently we offered a cruise as part of the Boston National Public Radio annual fundraising event.  If you'd like to use a Galapagos cruise as a fundraiser for a special cause, please get in touch with us to explore possibilities.
CNH Tour is a Full Member of the International Galapagos Tour Operators Association (IGTOA) a non-profit association of travel companies , conservation organizations and other groups that seek a lasting protection of the islands.  We are also members of their board of directors.
6. We are a Member of the Charles Darwin Foundation's Governing Council.
In 2015, Marc Patry, co-owner of CNH Tours, was elected as a member of the Charles Darwin Foundation's governing council.  His long history in Galapagos, first as a staff member of the Darwin Station, then as a United Nations representative overseeing the conservation status of the Galapagos World Heritage Sites puts him in a good position to provide guidance to the Foundation.  In turn, this helps us keep close tabs on conservation issues in the islands.
7. You will be protected by the Ontario Travel Industry Compensation Fund.
As a registered travel agent under the Travel Industry Council of Ontario (TICO) anyone booking through CNH Tours benefits from the TICO Compensation Fund.  The Fund reimburses travelers when travel services are not provided due to our bankruptcy (we certainly don't expect that to happen) or that of an end supplier airline or cruise line - where a reimbursement has not otherwise been provided. Our registrant number is 50022618.
 8. We offer competitive prices.
There is a tendency to think that buying directly from the ship owners will result in cost savings.   In fact, whether one buys directly from the owner, or from us, the price is the same.   CNH Tours earns its living from the commissions the owners offer us by selling spaces on their ships.   When owners sell cruises directly, they simply keep the commissions themselves. The advantage of using an agent lies in the agent's capacity to consider your needs first, before suggesting a particular ship.   Ship owners are understandably focused on selling only their ships.
We cannot say enough good about CNH Tours, particularly Heather Blenkiron who handled our request. Throughout the whole process of planning our Galapagos island vacation, the personal attention that she paid us made us feel like we were her only clients, knowing full well that we weren't. We found out later that she was a Canadian consular officer on the Islands for several years. She was very knowledgeable and very open and honest in her suggestions. We felt like she was working for us, not for the boat companies.  Their pre-tour information book (44 pages!) covered every conceivable issue.
For the full trip report, on an independent website, click here