galapagos
CNH Tours - Cultural and Natural Heritage Tours Galapagos
Arranging your extensions

Of course, you might have your own ideas - and we'd be pleased to help you make the necessary arrangements.  Just let us know.
Otherwise, here are some of the more fascinating opportunities for extensions that we've helped arranged in the past.  Though we are Galapagos experts, over the years, we've developed a certain knowledge over extension options such as those below.
1.  Otavalo Indian Crafts market and surrounding areas.
Catering to both visitors and locals, this market offers a vibrant display of day to day life in an important Andean town while at the same time offering little discoveries to day trippers.  The market can be visited as a long day trip from Quito, but preferably as an overnighter.
2.  The Cloud Forest.
We recommend spending 2 nights in the cloud forest - giving you at least one full day to explore this unique ecosystem (I'll never forget the 3 foot / 1 metre earthworm myself!).   Plenty of birds, and beautiful forests - good for hiking, horseback or simply chilling out.
3. Papallacta Andean hot springs
Very cozy cabins around a high altitude hot spring, and walks along trails in the paramo.  Perhaps you'll spot a condor?  We recommend 2 nights there to take the time to enjoy, and relax - though you could take it in on an overnighter.
4.  The Amazon basin
Ecuador boasts several fascinating jungle lodges.  Typically plan on at least 3 nights, preferable 4-5, to enjoy this experience to the fullest.
5.  Machu Picchu and Cuzco
Heart of the Inca empire - these UNESCO World Heritage sites are well known places in Peru.    Typically, you'll need about 4-5 days to visit these places.   We can help you make all the necessary arrangements, including flights, hotels and transfers.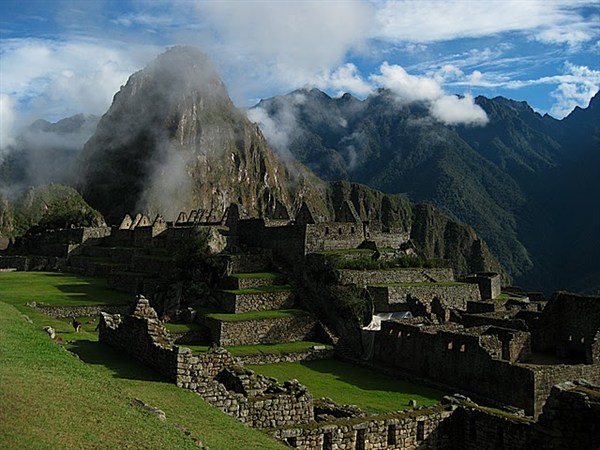 Yves and I wanted to thank you for helping us with the trip of a lifetime! We really, really enjoyed the Samba.  The guide, Marianna, and the crew were great!  Every day we wondered how it the next day could be just as good, but it always was.  We even had an opportunity to swim with a pod of dolphins at Marchena.  
This was quite incredible.  We enjoyed snorkelling every day, as a matter of fact, I wish we were there snorkelling now.