galapagos
CNH Tours - Cultural and Natural Heritage Tours Galapagos
Friday June 21, 2013
President Correa readies for tough decisions?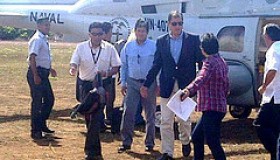 Ecuadorian president, Rafael Correa is in Galapagos these days. He's introducing the new president of the Governing Council of Galapagos, outsider Maria Isabel Salvador, who was until this week the Ecuadorian ambassador to the Organization of American States. Declared a province about 20 years ago, it soon became apparent that with its relatively tiny population, provincial status gave too much importance within national governing bodies to such a small part of the territory. Provincial status was modified under Correa's new constitution, about 5 years ago, and Galapagos, though still a province in name, is not a province in the way it's governed. The central government is much more involved now. CNH Tours believes this is a good thing - we lived there while it was a province, and the provincial politics were a veritable snake pit, and the source of more discord than anything else.
Previous presidents of the governing council have been locals - this is a break in tradition. "The message was very clear, the government is preparing to make some unpopular decisions," says Reyna Oleas, an ecologist in Puerto Ayora, the islands' biggest town.
On June 1st, Correa declared that the islands faced "multiple problems" from "disorder, a lot of abuse, a lot of anarchy, lack of policies". Fuel subsidies are being cut, and the total number of cars on the archipelago is to be capped.
We are trying to determine if the presidential visit will result in any other significant declaration / decision in terms of the conservation of Galapagos (Correa has a pretty good track record so far in supporting fairly rigorous conservation measures and investments) and tourism.