galapagos
CNH Tours - Cultural and Natural Heritage Tours Galapagos
Useful Links
Galapagos Information Centre
Click here to enter the government of Ecuador's excellent web site exclusively dedicated to answering questions about Galapagos.
Reading List
An exhaustive list of reading materials, covering a very wide range of subjects, well ordered for easy browsing.  Headings include ecotourism, Darwin, natural history, birds, biogeography and more!  Our all time favourite (offered to us as a wedding present just before we left for Galapagos) is:  Song of the Dodo, by David Quammen.  This is an excellent introduction to island biogeography - a very enjoyable read, written by a journalist, part travel log, part popular science.  It helped us appreciate the process of speciation and extinction in Galapagos.  My husband read it three times while there.
Health Considerations
General health considerations when travelling to Galapagos and Ecuador.
International Galapagos Tour Operators Association
A standards setting association providing general information on tourism in Galapagos.  CNH Tours is a proud member of this organization.  See its very valuable "GENERAL INFORMATION" section.
Charles Darwin Research Station
Click here for all you ever wanted to know about the natural history of Galapagos and the activities of the famous Charles Darwin Research Station.  An excellent site.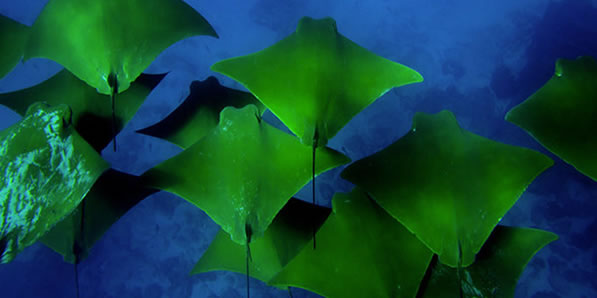 Independent Reviews
Top Adventures:
http://www.top-adventure-tours.com/galapagos-trip.html
Trip Advisor:
http://www.tripadvisor.com/ShowTopic-g294310-i6637-k3251378-Samba_Cruise_Review_November_2009-Galapagos_Islands.html
http://www.tripadvisor.com/ShowTopic-g294310-i6637-k3919218-l28623960-Excellent_Trip_on_Board_Eco_Friendly_Samba_Long_Review-Galapagos_Islands.html
http://www.tripadvisor.com/ShowTopic-g294310-i6637-k3364574-Samba-Galapagos_Islands.html
Yves and I wanted to thank you for helping us with the trip of a lifetime! We really, really enjoyed the Samba.  The guide, Marianna, and the crew were great!  Every day we wondered how it the next day could be just as good, but it always was.  We even had an opportunity to swim with a pod of dolphins at Marchena.  
This was quite incredible.  We enjoyed snorkelling every day, as a matter of fact, I wish we were there snorkelling now.